---
New
Thank you to all who visited our site this year.



Contemplating a sailing adventure in 2018?
We enjoyed a splendid Around Vancouver Island  trip this summer.
It doesn't get any better than this!    Call us about next year.

Phone Toll Free 1 (800) 661-9133
E mail      bewley@seabc.com

Desolation Sound / Princess Louisa Inlet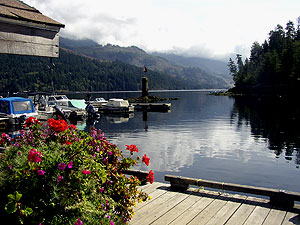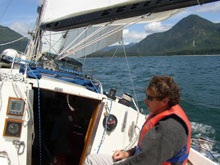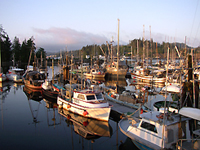 We love visiting these world class locations. Give us a shout and we'll arrange it for you.
Inquiry Reward

Win an exquisite travel alarm Cabin Clock in polished stainless steel from Grants of Dalvey.

Fill in our contact form or send us an inquiry, and you will be included automatically in our draw.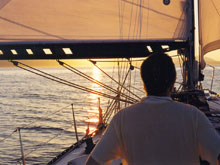 "Time and tide wait for no man."
Please contact us well in advance for the information you need, and to co-ordinate scheduling. No experience is necessary to join most of our trips. We do however require as much notice as possible to book the time you want.

2017 Schedule
(Updated Apr, 4, 2017 )
Courses and cruises are run in addition to the times listed below. Destinations include the Gulf Islands,Desolation Sound, the Sunshine Coast and Around Vancouver Island. Please contact us to arrange a time that suits you.
Fee Schedule (Cdn.$) per person
Cost Per Person
March, April, Oct.
May, Sept.
June,
July, Aug.
5 Days
$995
$1,095
$1,195
 Basic Cruising
Dates 2017

# of Days

April 3
5
April 18
5
April  24
5
May  8
May  23
5
May 29  
5
June 5
5
June 12    
5
July 

July 17

July 24

5

5

July 31
5 or 10 days
August  21
5
August 28
5
September 
September 11
5
September 18
5
October 2
5
Intermediate Cruising
Dates 2017
# of Days

May 08

July 31

5  days

5 or 10 days
Advanced Cruising
| | |
| --- | --- |
| Dates 2017 | # of Days |
| June 24,  | 14 |
Bewley Sailing
2891 W.7th Ave., Vancouver, BC., Canada, V6K 1Z5

Toll Free 1-800-661-9133
Ph: (604) 689-1647
Fax: (604) 669-2888
E-mail: bewley@seabc.com